Let us talk about concrete things; man, his structure, his function, his behavior, his nature, and his existence in the world that we know and understand today.
Spiritualism – Albert Einstein's God Letter
Albert Einstein's hand-written letter in German questions whether an entity named God exists:
SPIRITUALISM – ABOUT SPIRIT AND SOUL-THE TWO SIDES OF THE SAME COIN:
I am pleased to share this letter with my readers. I am not surprised. Albert Einstein is no exception and like all others before him and after him (like Richard Dawkins), he just chooses to examine one side of the coin and forgets that the same coin could have a second face. This is the same problem that I encounter while I read the thoughts of a variety of people. They fail to make the fundamental distinctions (for example, the distinction between the living and the non-living, or animate and inanimate) and they tend to examine one aspect of the standard dualism (for example, Appearance vs Reality, and Conditioned vs Unconditioned) . However, I have no reason to reject their views as they present a view of the coin, the face that they recognize. I would give a brief response and invite all to discuss the issue if that would be of any interest to you.
1. Human Identity and Human Individuality
2. Human Essence and Human Existence
3. Human Spirit and Human Soul
4. Human Creation and Human Evolution
5. Reality and Illusion.
There are two aspects or elements of human nature that are in perpetual tension with each other; 1. Freedom, and 2. Dependence. In 'Spirit' we seek Freedom, Independence, Liberation, Release, and Salvation. Freedom is associated with the man's ability called imagination, and a man can find inspiration from within himself and from without to express his creative power of imagination. Man has this unique ability to set himself Free in his mind. Man is endowed with an intellectual ability to seek Freedom even when that Freedom has no correspondence with an external Reality. Man can think that he is Free while he exists in captivity. Man primarily uses his Freedom, the Free Spirit to manipulate the dependent nature of his "conditioned" existence that is sustained by the vital, animating, Life Principle called Soul which represents the second face of the same coin. Man exists as an Individual with Individuality while he is helplessly attached to the environment and the biological community in which he always exists. Man cannot escape from being an Individual with Individuality as this Individualism is the expression of the Individualistic behavior of the molecules (Deoxyribonucleic Acid or DNA), the biological basis for his existence. At the same time, this human Individual with Individuality cannot find Freedom for he survives on support from an external source which demands a constant relationship with an external community of living things.
I describe the second face of the coin as the 'Soul' which provides the attachment for man's dependent or conditioned existence. Man's Spirit is expressed as his Essence and man seeks to describe his Identity in terms of this Essence and will be able to do so if and only if the Spirit is in relationship with the Soul that provides the attachment to draw energy from an external source. Man's dependence is often accompanied by an emotional state or condition called 'Devotion' which is expressed as a behavioral attitude called Humility.
The matter that concerns us is not that of verifying the existence of God. Man is condemned to exist under the influence of an Illusion that generates Ignorance or inability to perceive the Reality. The experience of Ignorance is a fundamental requirement to support human existence. The perception of Reality puts an end to man's existence. Man is free in his Spirit to seek Mercy, Grace, and Compassion to understand the nature of Reality while he is trapped by the powerful influence of Illusion. The Illusion that I speak about, describes the lack of sensory perception of the fact of existence on the surface of a fast-moving object. Man is free to describe the motion, but is not free to have a direct, sensory perception of that motion. Man's Freedom is in his Free Spirit called 'Bhavana' and his relationship with the world and universe called 'Jagat' (that which is constantly moving and changing ) in which he lives, is called Spirituality and Spiritualism.
I like the concluding remarks made by Albert Einstein in his letter and it reads: "Therefore I think that we would understand each other quite well if we talked about concrete things." In that spirit, I would invite my readers to talk about concrete things; this discussion is not about Albert Einstein's personal belief, it is not about his Identity as a Jew, it is not about the stories found in Bible, and it is not about God. Let us talk about concrete things; man, his structure, his function, his behavior, his nature, and his existence in the world that we know and understand today.
Albert Einstein's Historic 1954 "God Letter"
by Richard Dawkins. Posted on September 17, 2012
Go to:
http://richarddawkins.net/news_articles/2012/8/15/Albert-Einstein-s-historic-1954-god-letter-handwritten-shortly-before-his-death
EXCERPTS:
E-Bay will auction the original, handwritten, in German, letter and envelope,
sent on Princeton University letterhead, by Albert Einstein to
Eric B. Gutkind, on January 3, 1954, a year before Einstein passed away in 1955,
sent as response to Gutkind's book "Choose Life: The Biblical Call to Revolt".
Key Passages in Translation into English from German:

… I read a great deal in the last days of your book, and thank you very much for sending it to me.
What especially struck me about it was this. With regard to the factual attitude to life and to the human community we have a great deal in common.
… The word God is for me nothing more than the expression and product of human weaknesses, the Bible a collection of honorable, but still primitive legends which are nevertheless pretty childish. No interpretation no matter how subtle can (for me) change this. These subtilised interpretations are highly manifold according to their nature and have almost nothing to do with the original text. For me the Jewish religion like all other religions is an incarnation of the most childish superstitions. And the Jewish people to whom I gladly belong and with whose mentality I have a deep affinity have no different quality for me than all other people. As far as my experience goes, they are also no better than other human groups, although they are protected from the worst cancers by a lack of power. Otherwise I cannot see anything 'chosen' about them.
In general I find it painful that you claim a privileged position and try to defend it by two walls of pride, an external one as a man and an internal one as a Jew. As a man you claim, so to speak, a dispensation from causality otherwise accepted, as a Jew the privilege of monotheism. But a limited causality is no longer a causality at all, as our wonderful Spinoza recognized with all incision, probably as the first one. And the animistic interpretations of the religions of nature are in principle not annulled by monopolization. With such walls we can only attain a certain self-deception, but our moral efforts are not furthered by them. On the contrary.
Now that I have quite openly stated our differences in intellectual convictions it is still clear to me that we are quite close to each other in essential things, i.e; in our evaluations of human behavior. What separates us are only intellectual 'props' and 'rationalization' in Freud's language. Therefore I think that we would understand each
other quite well if we talked about concrete things.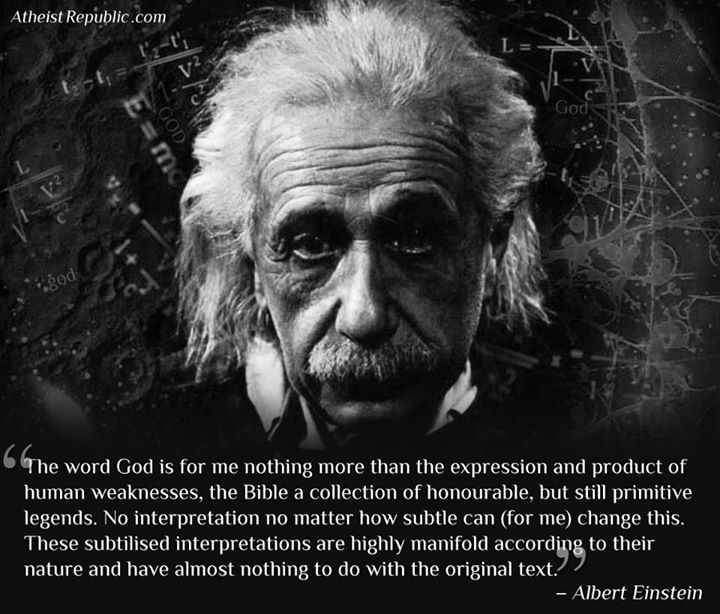 I Exist, Therefore I am. The Rudolf-Rudi Connection at Whole Foods
Yes indeed, Life is complicated and it demands answers which can only be revealed by exploring the nature of human existence.
Spirituality Science – AHAM Brahmasmi – Unity vs Identity:
This article is dedicated to this Indian Lady who symbolizes the Principle of Unity that appears as the verbal Sound or "SHABDA" called "ASMI" which means always present or ever-existing.
Should man search inwards or search outwards to find God? I can search, if and only if I am experiencing the reality of my own existence. For my existence, I depend upon the ability of plants called Photoreception. If God is Light, the Light that sustains Life is not about the human ability of sensory perception called Vision.
I am asking my readers, specially those who study the Indian Schools of Thought, to recognize the need for careful interpretation of the insights provided by Indian thinkers. The concern is not about duality and differentiation. The problem is not that of establishing the exact Identity between God and orders like Matter, Energy, Time, Space, Man, and Living Entities. The concern is about the fact of existence. Everything that exists is not exactly the same or identical to Brahman. It may be correct to state that everything finds its existence because of Unity or "EIKYATA", the fundamental basis for existence and this Unity becomes the verbal Sound known as "ASMI" which describes BRAHMAN as the Cause of all that exists.
It is indeed true that a man's existence on planet Earth could be short-lived, ephemeral, transitory, and may even last only one day. Man is an organism with a brief life cycle. But, the Physical Reality of this existence demands the Unity described by the verbal Sound called "ASMI" which means 'always present', or 'ever-existing'. The Physical Dimension of human life and human existence cannot be rejected as unreal. It is not an illusion for there are always both subjective and objective criteria to verify and to validate the physical form and physical appearance that is said to be existing. A man's true or real Essence called Self or ATMAN cannot manifest itself in the physical world without Unity between the mortal nature of man's conditioned existence and the eternal nature of Brahman which is always present, or ever-existing.
I use the word Spirit, Soul, or ATMAN to describe the Vital, Animating Principle that is involved in establishing a man's physical existence in the world. The issue is not about Soul or ATMAN's existence when separated from its human body. The human form, the human appearance, and the human existence at any given age or condition is always dependent upon the Unity between Body and Soul.
It should not be of any surprise to note that ATMAN could be Unborn, Eternal, Everlasting, Immortal, and Imperishable. Those are the fundamental attributes of all Physical Matter that exists in this Universe. Matter is made up of Chemical Elements and the Fundamental Laws of Conservation state that Matter is neither created, nor destroyed.
To understand the concept of Unity and the Unifying Principle, we need not ignore the beautiful Reality that manifests itself in numerous, countless forms and shapes. There are no identical living things. Every living thing, every member of all known living species simply exist as Individuals with Individuality. The Statement about The Atman, "The One Without Second" is a mere reflection of the Reality that Science can experimentally verify. To know about Life, we have to know about each individual, living thing.
Brahman or God is variously described as the Creator, the Artist, the Designer, and the Architect of the Universe. Every created object exists as an original, unique, distinct, and one of its own kind of object. For the Architect uses Imagination to draw a Plan or Design, there is Unity while there is Diversity, Variation, and Differentiation of various parts that come together in Harmony to give the harmonious, singular, Whole Experience.
The discussion about Life and Death need not involve the separation of human body into separate or distinct parts like the Body, and Soul. At no time, the Body exists without its operating Principle called Soul, or ATMAN. The phenomenon of Death involves the physical form and appearance and not that of the Substance and the Chemical Elements that constitute the Living Things.
The man's mortal or conditioned existence demands the operation of Unity or Unifying Principle that allows man and other living entities to exist in relationship with God. At the same time, Lord Krishna in the above image (The Bhagavad Gita, Chapter IX, Verse.4) clarifies that God's Existence is Unconditioned and God does not depend upon man and other living entities to maintain or sustain His own eternal, everlasting Existence.
Indian tradition such as the above image of a statement from Kathoponishad (KATHA+UPANISHAD) may suggest the feasibility of separating the human body from its indwelling Soul, Atman, or PURUSHA, I would ask my readers to be very careful to make an interpretation after recognizing the simple fact that man has no ability to separate the living entity from its Living Principle. Man may kill himself, man can kill another man and other forms of Life. But, the Union of Body and its Soul or ATMAN, or PURUSHA is not accomplished by man's mental, or physical actions. The man exists with no Control, or ability to Rule or Govern his own existence at any given instant.
Indian Tradition often describes the Identity between the Self, ATMAN, and PURUSHA, the Eternal Cosmic Person. For I recognize that man is not the Cause or Originating Seed of his own existence, man must carefully describe his existence as that of Unity between man, and PURUSHA, the eternal Cosmic Person. Man is the result of the harmonious effect that brings Structural, and Functional Unity between various interacting parts such as the trillions of individual, independent, living cells that constitute the human organism.
The Complexity of BRAHMAN, THE PURUSHA, OR THE COSMIC PERSON can be understood by viewing the above image of "VIRAT PURUSHA" in which every Energy, Force, or Power is depicted with a distinct physical appearance and form.
The man's own physical form and appearance is derived from this Universal Form and it simply represents one aspect among the numerous manifestations. Hence I submit that the "MAHAVAKYA" or the Great Statement that appears in the Brihadarnyaka Upanishad, "AHAM BRAHMASMI" should be interpreted with a pinch of Salt and in Reality, man may speak of his Unity and not of Identity with "VIRAT PURUSHA." The Correct interpretation of Aham Brahmasmi is I am + Brahman, I am + Divine which describes the man-God Connection, the Original Seed, the Prime Cause of Existence.
The Rudolf-Rudi doctrine of Whole Spirituality:
Yes indeed, Life is complicated. I coined the phrase Whole Spirituality to bring Unity between the Three Orders described as 1. Whole Foods, 2. Whole People, and 3. Whole Planet. God created the Ground Substance of Unity and Spirituality.
Spirituality Science – Essence, Identity, Unity, and Existence:
There is no 'Essence', there is no 'Identity', and there is no 'Existence' of man if there is no 'Unity' between the three fundamental orders called 1. God, 2. Soul, and 3. Matter. The Sanskrit word "ASMI" (always present, ever existing) stands for 'Unity' or "EIKYATA" of the three fundamental orders. I want to invite my readers to join me in a discussion to interpret the terms Essence, Identity, Unity, and Existence that appear in the Indian Holy Scriptures and are variously interpreted by the major Indian Schools of Thought known as 'Advaita' (Unqualified Non-Dualism), 'Visistadvaita' (Qualified Non-Dualism), and 'Dvaita' (Dualism).
Adi Shankara held that the Divine Soul or Paramatma, and the individual soul or Jeevatma are identical or the same. He did not account for the existence of his human body. He was satisfied by claiming that his human body does not describe his true or real identity or essence. In his view, the material world including the appearance of man is deceptive for it is the product of Illusion.
Ramanuja held the view that God is modified by the orders of Matter and Soul. He stated that the Soul is modified by the body for the body has no separate existence from its Soul. Similarly, the Soul modifies God for it has no separate existence apart from God. His aim was to achieve Soul's Union with a Personal God. He had not accounted for the existence of the living human being whose Body, and Soul have no separate existence without maintaining Unity with God.
Madhva maintained that the simple fact that things are transient and ever changing does not mean that they are not real. He rejected Shankara's Theory of Maya or Illusion but, at the same time he may have failed to acknowledge that the phenomenon of Illusion could be an important basis for the reality of man's existence on the surface of a very fast spinning object like Earth. Man's existence demands a blissful state of ignorance of the realities of motion of planet Earth while he synchronizes his existence taking the cues from Sun's apparent motions across the sky that generate the experience of Sunrise and Sunset.
Aitareya Upanishad claims that Consciousness is God or Brahman and it states that all existence is supported by Consciousness. To that extent, Consciousness can be defined as the awareness of the fact of one's own Existence. In my view, the 'Essence' and 'Identity' of a thing can be described if, and only if the thing had a past 'Existence', or is existing in the present, or has the potential ability to exist in the future. Essence and Identity are predetermined by the requirement called 'Existence'.
If the universe is accounted by three distinct or separate orders such as God ("BRAHMAN"), Soul ("ATMAN"), and Matter, man represents the single, harmonious effect called 'Unity' or "ASMI." The terms such as Soul or "ATMAN", or "JEEVATMA" may have to be used to explain the fact of 'Unity' and the manifestation called 'Existence' by which the thing called "I" gets its name, and form, becomes differentiated and can be recognized as "I AM." I want to categorically claim that it will be of no help or use if terms such as Soul, Atman, and Jeevatma are narrowly defined to simply describe the Essence or Identity of man. I would like to direct this discussion towards the importance of 'Unity' or of the term "ASMI" which means always present, and ever existing. Thus 'Existence' becomes the defining feature or chief attribute of all things and without the fact or reality called 'Existence', no truth can be known, and things have no Identity or Essence.
MY IDENTITY – MY CONNECTION – REBBAPRAGADA – KASTURI – SARVEPALLI – CONNECTION:
I am able to recognize and describe the 'Identity' of my maternal grandfather and his brothers for a man always comes into existence with an original form, and gets a name for it can be clearly differentiated from all other men. My maternal grandfather's younger brother was married to Mrs. Rukmini, daughter of Dr. Sarvepalli Radhakrishnan. This 'Connection' with Sarvepalli family is important for several reasons. Most of my readers of this blog post in India can easily identify the person who existed as Sarvepalli Radhakrishnan. He served as India's first Vice President for two consecutive terms from 1952 to 1962, and served as India's second President from May 13, 1962 to May 13, 1967. Apart from being a statesman, Dr. Radhakrishnan is recognized as an Indian philosopher and had published 56 books. His most popular books are Indian Philosophy, two-volumes and The Principal Upanishads (1953).
The man must understand what it is to be a Substance and what it is to Exist. The Indian traditional thoughts about man tend to divide man into two categories; 1. The Sentient Soul or the Conscious Being, and 2. The Insentient or the Physical Being (not conscious) that is unreal, constantly changing, perishable, and leads a mortal, transient, or evanescent existence.
The above statement that claims that the universe consists of a combination of the perishable and imperishable may need further clarification. It cannot be entirely true for the Chemical Elements that constitute Physical Matter cannot be destroyed and they are imperishable. Indian tradition describes man as "DEHA", the physical body which is often compared to an empty vessel or house which is distinct, and separate from an entity called "DEHE", or "DEHINAH", the indweller, the embodied being, the tenant who occupies a place of dwelling or residence. The indweller of the physical human body is identified as Soul, Atman, or Jeevatma. This separation of Body/Mind, and its Soul into unrelated, or independent entities poses huge problems if I have to account for the physical reality of man's Subjective and Objective Existence in the present world, the world that exists today as a self-evident truth.
The man's existence in the world begins with the act called 'Conception', the Union of the originating Principle or Seed (the Sperm Cell) with the Source Principle called the Egg Cell. In the Divine Song of The Bhagavad Gita, Chapter X, verse 39, Lord Krishna claims that He is the Originating Seed of all types of Existence and hence it must be understood that the fact of Existence requires an Original Cause, an Original Purpose, and an Originating Seed or Principle.
If God is viewed as the fosterer of the People, and if God is explained as the Originating Seed that accounts for man's existence, God, and man's physical body cannot be separated into separate parts.
For God (Brahman) is defined as the 'First Cause', the man's physical existence can be accounted as the single, harmonious "Effect" of that Original Cause that brings Unity between the three orders called God, Soul, and Matter.
The man's physical existence begins with the stage called 'ZYGOTE', the fertilized human ovum or Egg Cell. This single cell grows, multiplies, and fully differentiates to develop all the tissues, organs, and organ systems that are parts of the human body. The human body is the "Effect" of an Originating Seed, and cannot be considered as an empty vessel or an empty dwelling that is apart from its resident or indweller.
The Single, Fertilized Egg Cell is conscious of its own existence and the developing Embryo on its sixth day of existence implants itself into the tissues of Mother's womb to secure its own further existence.
The Newborn Baby always arrives into the world with an original, unique, distinct, and one of its own kind of genome that has never existed in the past, and will never exist again in the future. Every man who is born can only exist as an Individual with Individuality. Every man can be identified as a specific individual. The Law of Generation and Propagation is based on the principle of Creation that always causes the production of original objects that cannot be further duplicated. For man's form, and appearance is always associated with differentiation, man's identity can be easily described by attaching a proper name.
The word 'Essence'(Latin. Essentia) describes that something which makes an entity what it is; intrinsic, fundamental nature, the most important quality of something to constitute its essential being. Essence is used to describe the inward nature of anything that is important to know its manifestations that can be physically observed. The word 'Spirit' or 'Soul' are often used to describe the 'true' or unchanging principle of man for man's physical identity is not constant. The term 'Identity' (Latin. idem) means the same (Sanskrit. idam). The Latin word identitas is related to Latin. essentitas and hence Identity and Essence are always related and they help to know the thing or entity that they describe. Identity is about the condition or fact of being the same, or exactly alike, sameness or oneness. In modern times, identity is about the condition or fact of being a specific person or thing. Whereas the term 'Individuality' describes the sum of characteristics or qualities that set one person or thing apart from others. Individuality is the condition of the Individual who exists as a single, separate, or a particular thing. For man, his Individuality sets him apart from all other men. The term 'Existence' (Latin. existere, or exsistere) is about the act of existing, the state, or the fact, or the reality of actual being. Existence demands that the thing or entity must come forth, stand forth, to manifest, living, or being alive. The term 'Unity' implies the state of being united to make something complete in itself, the quality or fact of being a totality or 'Whole'. Unity is used to signify a Complex, the product of a Union of related parts, or an arrangement of parts that will produce a single, harmonious effect. Unity is thus concerned about the 'Effect' it generates while a thing could be made up of diverse elements or individuals. For human body is constituted by trillions of Individual, and Independent Living Units called Cells, the 'Effect' called 'Unity' is of fundamental importance to know man's 'Essence', or 'Identity' that is manifested by his 'Existence.
The Rudolf-Rudi doctrine of Spiritualism connects Whole Foods, Whole People, and Whole Planet
Yes indeed, Life is complicated for God created the Living Matter called Protoplasm or Cytoplasm and separated it from the Nonliving Matter. Rudi acknowledges his German heritage at Whole Foods when he discovered the spiritual connection between man, food, and Providence. Whole Foods, Whole People, and Whole Planet are connected by a material substance called Protoplasm or Cytoplasm, a divine plan to provide nourishment to Life.
The Rudolf and Rudi Connection at Whole Foods, Ann Arbor can be best described as the concept of Whole Spirituality, the three dimensional spiritual relationship between the multicellular human organism, food, and the Divine Providence.
SPIRITUALISM – THE CELL THEORY OF SPIRITUALITY:
In Biology, cell is the basic or fundamental unit of structure, function, and organization in all living things or it is the building block of life. Let me begin with my respectful tribute to some of the people who contributed to 'The Cell Theory', one of the foundations of Biological Sciences. Cells were first observed in the 17th century shortly after the discovery of the microscope. Robert Hooke, british curator of instruments at The Royal Society of London, during 1665 coined the word cell. Dutch microscopist Antonie Van Leeuwenhoek (1632-1723) made over 247 microscopes and examined microorganisms and tissue samples. He gave the first complete descriptions of bacteria, protozoa (which he called animalcules), spermatozoa, and striped muscle. He also studied capillary circulation and observed Red Blood Cells.
Improvements in microscopy during early 19th century permitted closer observation and the significance of cells had received better understanding. Matthias Jakob Schleiden (1838), german botanist, Theodor Schwann (1839), german physiologist, and Rudolf Virchow (1855), german pathologist, and others made important contributions to the Cell Theory that describes cell as the building block of all Life.
The Cell is the smallest unit in the living organism that is capable of carrying on the essential life processes of sustaining metabolism for producing energy and reproducing. Many simple, small, single-celled organisms like Protozoa perform all life functions. In higher, complex, bigger, multicellular organisms, groups of cells are structurally and functionally differentiated into specialized tissues and organ systems. Thus, the Cell Theory includes the following foundational principles of the Biological Sciences:
1. All living things are made up of cells. Cell is the most elementary or basic unit of Life.
2. Cell is a fundamental unit of structure, function, and organization in all living things including plants and animals.
3. Cells only rise from division of previously existing cells.
4. All cells are similar in composition, form, and function. All cells are basically the same in chemical composition (in spite of variations) in organisms of similar species. For example, all the solid tissues in the human body can be shown to consist largely of similar cells; differing it is true, but that are essentially similar to an Ovum.
5. The cells exhibit functional autonomy. The activity of an organism depends on the total activity of 'INDEPENDENT' cells.
6. Energy flow (metabolism and biochemistry) occurs within cells.
7. Cells contain hereditary, biological information (DNA) which is passed from cell to cell during cell division.
The Cell Theory of Spirituality:
The basic or fundamental unit of life in the human organism is derived from the fertilized egg cell that eventually develops into a complete organism. The most significant feature of similarity between the cells of the human body is the presence of a soft, gelatinous, semi-fluid, granular material inside the cell. This substance known as Protoplasm or Cytoplasm, or Cytosol is similar to the ground substance found in the Ovum or the Egg Cell.
This viscous, translucent, colloidal substance is enclosed in a membrane called Cell Membrane, Plasma Membrane or Biological Membrane. A small spherical body called nucleus is embedded in the Protoplasm of the cell. The three essential features of any living cell in the human body are that of the presence of protoplasm, the nucleus, and the cell membrane.
Protoplasm, the Ground Substance of Spiritualism and Spirituality:
I seek the existence of Soul or Spirit in a substance that is basic to life activities, and in a material that is responsible for all living processes. I, therefore, propose that the understanding of the true or real nature of this ground substance of all living matter will help man to discover peace, harmony, and tranquility in all of his internal and external relationships while man exists in a physical environment as a member of a social group, social community, and Society. In this blog post, I would like to pay my respectful tribute to Jan Evangelista Purkinje and Hugo Von Mohl for their great contribution to the scientific understanding of the living substance, living material, and living matter.
Purkinje conducted his research on human vision at the University of Prague and later on, he served there as a Professor of Physiology (1850-69). He went to Germany and was appointed the Chair of Physiology and Pathology (1823-50) at the University of Breslau, Prussia. There Purkinje created the world's first independent Department of Physiology (1839) and the first Physiological Laboratory (Physiological Institute, 1842). He is best known for his discovery of large nerve cells with many branching extensions found in the cortex of Cerebellum of the brain (Purkinje Cells, 1837). He discovered the fibrous tissue that conducts electrical impulses from the 'pacemaker' called Atrioventricular node or A-V node along the inside walls of the ventricles to all parts of the heart to help in Cardiac contractile function (Purkinje Fibers, 1839). In 1835, he invented and introduced the scientific term 'Protoplasm' to describe the ground substance found inside young animal embryo cells. He discovered the sweat glands of the skin (1833); he discovered the nine configuration groups of Fingerprints used in biometric identification of man (1823); he described the germinal vesicle or nucleus of the unripe ovum that now bears his name (1825), and he noted the protein digesting power of pancreatic extracts (1836).
Hugo Von Mohl named the granular, colloidal material that made up the main substance of the plant cell as "Protoplasm" in 1846. Purkinje invented the word, but Hugo gave more clarity, understanding, and knowing the nature of this ground substance. He viewed cell as an "elementary organ" and in Physiology he explained Protoplasm as an organ of Motion or Movement, Nutrition, and Reproduction. It is the preliminary material in cellular generation. He was the first to propose that new cells are formed by division of preexisting cells and he had observed this process of Cell Division in the algal cells of Conferva glomerata. His observations are very important to understand the Cell Theory that explains cells as the basic building blocks of Life. He was the first to investigate the phenomenon of the stomatal openings in leaves.
Protoplasm is a complex, viscous, translucent solution of such materials as salts and simple sugars with other molecules, mostly proteins and fats, in a colloidal state, that is dispersed but not dissolved in one another. Carbon, Hydrogen, Oxygen, and Nitrogen constitute more than 90 percent of Protoplasm.
It exhibits properties such as Protoplasmic Streaming or Cytoplasmic Streaming or Motion that is called "Amoeboid Movement." It has the intrinsic power to change its shape and position. It has the power of Nutrition by which it can attract and obtain the materials necessary for its growth and maintenance from surrounding matter/environment.
The living functions such as Nutrition, Cellular Respiration, and Reproduction performed by Cytoplasm involve acquiring, processing, retaining, and using information to perform tasks in a sequential manner for a predetermined purpose and hence describe Consciousness, Memory, and Intelligence.
The terms Soul and Spirit belong to the materialistic realm where the Physical Reality of man's biological existence is established. I have not yet discovered any good reason to use the terms Soul and Spirit as a metaphysical or transcendental Reality.
The Inheritance of Cytoplasmic Membrane or Cell or Plasma Membrane:
The Functions of Cytoplasmic Membrane or Cell Membrane or Biological Membrane:
1. Protection: It protects the cell from its surroundings or extracellular environment. Plant cell possess wall over the plasma membrane for extra protection and support.
2. Holding cell contents: Plasma membranes hold the semi fluid protoplasmic contents of the cell intact; thus keeping the individuality of the cell.
3. Selective Permeability: Cell membrane allows only selected or specific substances to enter into the cell and are impermeable to others.
Gases like O2 and CO2 can diffuse rapidly in solution through membranes.
Small compounds like H2O and methane can easily pass through where as sugars, amino acids and charged ions are transported with the help of transport proteins.
The size of the molecules which can pass through the plasma membrane is 1-15 A0. This property is responsible for keeping a cell 'as a cell', an individual unit.
4. Shape: It maintains form and shape of the cell. It serves as site of anchorage or attachment of the cytoskeleton; thus providing shape to the cell (especially in animal cells without cell wall).
5. Organelles: Cell membrane delimits or covers all sub-cellular structures or organelles like nucleus, mitochondria, plastids, Golgi apparatus, endoplasmic reticulum, microbodies etc. thus protecting them form the surroundings and also helps in maintaining a constant internal environment.
6. Compartmentalization: Cell membrane separate the cells from their external environment and cell organelle from cytosol. It help the cells and their organelles to have their own microenvironments, structural and functional individuality.
7. Cell Recognition: With the help of glycolipids and glycoproteins on its surface, cell membranes are able to differentiate similar cells from dissimilar ones, foreign substances and cells own materials. Cell recognition is useful for tissue formation and defence against microbes.
8. Antigens: Cell membranes possess antigens which determine blood grouping, immune response, acceptance or rejection of a transplant (graft rejection by MHC's on plasma membrane).
9. Microvilli: They are microscopic finger like projections of plasma membrane present on some cells like intestinal epithelial cells, which are involved in a wide variety of functions, including increasing surface area for absorption, secretion, cellular adhesion etc.
10. Sheaths of cilia and flagella: Cilia and flagella are projections from the cell; made up of microtubules which are covered by an extension of the plasma membrane.
11. Cytoplasmic bridges in plasmodesmata and gap junctions: Plasmodesmata in plant cells and gap junctions in animal cells; meant for intercellular transport and communication, form cytoplasmic bridges between adjacent cells through plasma membrane.
12. Endocytosis and Exocytosis: Bulk intake of materials or endocytosis occurs through development of membrane vesicles or invagination and engulfing by plasma membrane.
Exocytosis: It is reverse of endocytosis that provides for releasing waste products and secretory materials ot of the cells with the help of plasma membrane.
13. Impulse transmission in neurons: The transmission of a nerve impulse along a neuron from one end to the other occurs as a result of electrical changes across the plasma membrane of the neuron
14. Cell metabolism: Cell membranes control cell metabolism through selective permeability and retentivity of substances in a cell.
15. Electron transport chain in bacteria: In bacteria; Electron transport chain is located in cell membrane.
16. Osmosis through cell membrane: It is movement of solvent molecules (generally water) from the region of less concentrated solution to the region of high concentrated solution through a semi permeable membrane. Here the semi permeable membrane that helps in osmosis is the cell membrane. Eg: Root cells take up water from the soil by osmosis
17. Carrier proteins for active transport: They occur in the cell membranes and control active transport of substances. Example, GLUT1 is a named carrier protein found in almost all animal cell membranes that transports glucose across the bilayer or plasma membrane.
18. Plasma Membrane enzymes: Many enzymes are present on the plasma membrane with wide variety of catalytic activity. Example: Red blood cell plasma membranes contain a number of enzymes such as ATPases, anion transport protein, glyceraldehyde 3-phosphate dehydrogenase, protein kinases, adenylate cyclase, acetylcholinesterase.
19. Cell Membrane Receptors: Receptor on the plasma membrane performs signal transduction, converting an extracellular signal into an intra-cellular signal. Membrane possess receptors for hormones, neurotransmitters, antibodies and several other biochemicals.
20. Plasma membrane assisted Cell movements: Undulation and pseudopodia are cell membrane phenomenon involved in cell movement. Amoeba, macrophages and WBCs move with the helps of temporary organelles like pseudopodia. Pseudopods are temporary cytoplasmic projections of the cell membrane in certain unicellular protists such as Amoeba. Some mammalian cells such as fibroblasts can move over a solid surface by wave like undulations of the plasma membrane.
The Ground Substance of Spiritualism and Spirituality. The vital characteristics, the animating principles of Protoplasm could be known by observing Amoeba proteus. The Living Substance works as an organ of Motion or Movement, as an organ of Nutrition, and as an organ of Reproduction to generate new cells which have a life span of their own. In these physiological functions, I describe the characteristics such as Cognition, Consciousness, Memory, and Intelligence as spiritual attributes of Life as they bring functional unity and harmony in the interactions between different parts of the same individual organism while it exists in an environment as a member of a biological community.
THE SPIRITUALITY OF SUBSTANCE, FUNCTION, ORGANIZATION, ACTION, AND INTERACTIONS:
To establish the biological existence of the human organism, I add the concept of Spiritualism and Spirituality to the Cell Theory.
The Single Fertilized Egg Cell has ground substance that is of Spiritual nature and the Spiritualism and Spirituality consists of the following functional, and organizational characteristics:
1. The Cell is Conscious of its own existence and knows its internal condition and knows it external environment.
2. The Cell is intelligent and it has the cognitive abilities like perception and memory to acquire information, to retain information, to recall information, and to use information in the performance of its complex tasks in a sequential manner.
3. The Cell has the ability to show characteristics such as mutual cooperation, mutual tolerance, and display functional subordination and subservience while being independent.
4. The Cell grows, divides, and develops into a complete organism while it acquires substances and energy from an external environment. The power of Protoplasm/Cytoplasm to attract matter found in its external environment is called Nutrition. The Cell continuously transforms matter to build matter of its own kind for its own benefit to sustain its existence with its own identity and individuality. The Organism represents a social group or a biological community of Cells. The Spiritual nature of Protoplasm/Cytoplasm brings this functional harmony and unity in the Social Group or Biotic Community of Cells by bringing together its Essence and Existence.
5. The Cell Theory is incomplete for it does not describe the conditioned nature of the Cell's existence. The Cell represents a Living System that is thermodynamically unstable. It requires a constant supply of matter and energy from its external environment to sustain its living functions. The concept of Whole Spirituality formulates the connection between the Cell and its external source of matter and energy.
The theoretical claims about Spirit and Soul, the religious and philosophical doctrines of Spiritualism and Spirituality must be verified using the Cell Theory that defines the human organism. To describe Soul or Spirit as nonmaterial or immaterial Self will not help man to know the real or true man.
Whole Foods, Whole People, and Whole Planet come together in a Wholesome Relationship as God is the Energy Provider, the Original Source of Matter and Energy for Life.